LARAKI DESIGN / EUROMOLD 2008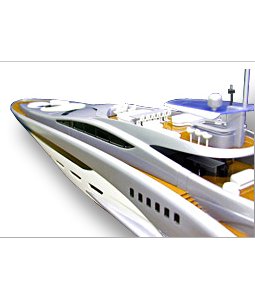 DSM Somos® présentera en avant première, au salon Euromold 2008 (stand C110, Hall 8), la maquette au 1/50ème du tout nouveau Yacht de luxe de 55 mètres d'Abdeslam Laraki.
Cette maquette ne démontre pas uniquement l'extraordinaire talent du jeune designer Marocain, mais elle prouve aussi qu'un nombre croissant de designers et de sociétés de services utilisent la résine de stéréolithographie Watershed XC quand la transparence, la précision et la qualité optique sont exigés.
Entièrement fabriquée, assemblée et peinte par la société de prototypage rapide Erpro, la maquette d'1.2 mètre du yacht de luxe au triple pont a été demandée par M. Laraki pour son futur propriétaire. Plusieurs techniques de fabrication ont été utilisées comme le fraisage, le frittage de poudre et la stéréolithographie qui fut choisie pour sa précision, sa qualité de surface et sa vitesse de fabrication. Cette maquette, à la finition très aboutie, sera présentée à son futur propriétaire comme une exacte réplique de ce qu'il obtiendra quand le yacht sera fabriqué aux État-Unis en 2009.
First presented on the DSM Somos® stand at EuroMold 2008 (Frankfurt am Main 3-6 December), the scaled model of Abdeslam Laraki's new 55 metre luxury-yacht demonstrated not only the extraordinary talent of the young Moroccan designer, but also why an increasing number of designers and service bureaus specify DSM Somos WaterShed®XC stereolithography resin when optical clarity, accuracy and quality are required.
Built in Paris by the engineering specialists Groupe Erpro, the 1.2 metre model of the 3-deck luxury-yacht was commissioned by Laraki for presentation to its
future owner. Many model making techniques were considered, but stereolithography was chosen for the technology's accuracy, surface quality, and build speed.
About Abdeslam Laraki
Born in Casablanca, Abdeslam Laraki studied Design and Materials Technology at the Strate Collège in Paris, the Swiss Franco Sbarro School of Design, and the Art Centre Europe. Having also studied in Madrid and Boston, Abdeslam Laraki also holds a Masters in Business Administration.
In addition to his innovative designs for the automotive industry, including the Fulgura and Borac luxury sports-cars, Abdeslam Laraki continues to work with some of the world's leading ship-yards including Platinum Yachts and Holland Super-Yacht Industries. Laraki Conceptors is based in Casablanca, Morocco.
Salon Euromold : Du 3 au 6 décembre 2008 à Francfort – Allemagne